Wiltshire prisoner fails to return after day release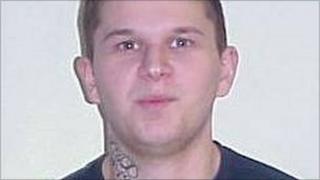 A man serving four years in prison for robbery has absconded from Erlestoke Prison in Wiltshire.
Lee John Turner, 21, was granted day release to travel to Swindon on 13 September but did not return.
Police want to locate him quickly and believe he is still in the Swindon area. He is not thought to be an immediate threat to the public.
He has a very distinctive tattoo on the right hand side of his neck detailing the date '1969'.