Divers ill after clearing River Avon in Chippenham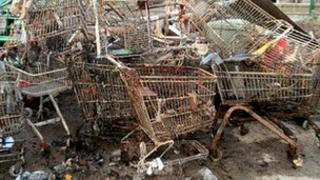 Volunteers from a diving group who removed three lorry loads of rubbish from a Wiltshire river have since reported symptoms of nausea.
Members of Calne Divers spent six hours clearing a stretch of the River Avon near the town bridge in Chippenham.
More than 40 trolleys, 20 bicycles and a bus stop with "bin and timetable still attached" were hauled out.
But Jon Dodsworth, from the club, said five divers had since become ill "and we think it might be Weil's disease".
Ten divers from the scuba diving club were recruited to clear a half-mile (800m) stretch of the river between the town bridge and the footbridge by the golf course, in Monkton Park, last week.
Working "by feel", the divers spent six hours in the silt-filled water pulling out traffic cones, pushchairs, car wheels, a cash register and a complete 8ft (2.4m) bus stop sign believed to date back to the 1980s.
"I don't know the last time it was cleared and there was no evidence, where we were, that it had ever been done in the history of the town and definitely not for at least 25 to 30 years," said Mr Dodsworth.
"We had to remove five shopping trolleys just to launch the boat - we were only expecting to find half the amount we found and in the end we only did a 25m stretch of the river on either side of the bridge.
"One woman has been really ill with stomach bugs and nausea and we think it's Weil's disease," he said.
"So unless we can get sponsorship for full face masks, so you don't come into contact with the water, I'm not sure I can convince anyone to do it again."