Swindon flooding 'due to eco-development' claim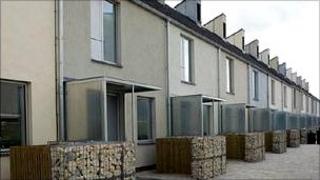 People living near an eco-development designed by Grand Designs presenter Kevin McCloud claim their gardens have flooded because of building work there.
The first residents moved into The Triangle, a 42-home scheme south of Swindon, in July.
One nearby resident said her garden was "just one big mud pool".
Hab Oakus, the company behind the development, said it was investigating but the area had always been prone to flooding.
Resident Jill Little said: "We've had quite a bit of flooding over the last couple of days. We've always had an issue with flooding but never to this degree.
"What it will be like in January or February when we've had another couple of months of rain, I dread to think."
A Hab Oakus spokesman said: "We will thoroughly investigate and respond to these reports regarding flooded gardens, though note that the area has experienced particularly heavy rainfall in recent days and that the residents acknowledge that flooding has always been a problem for them."