Cannabis farm hidden by bookcase in Wiltshire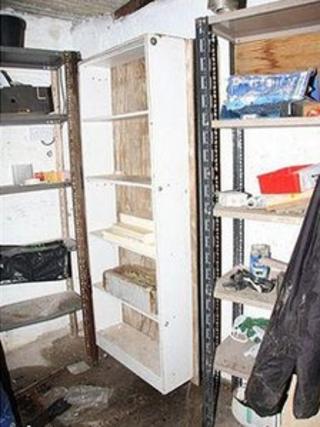 A cannabis factory has been discovered hidden behind a secret door at a property in Wiltshire.
Over 600 cannabis plants were uncovered by officers behind a door disguised as a bookcase and in farm buildings at Fairfield Piggeries in Bradford Leigh.
A Wiltshire Police spokesman said the sophisticated set-up "looked like something from a James Bond film".
A 61-year-old man, two 60-year-old men and a 31-year-old man were arrested and have been released on bail.
Police estimate £225,000 worth of cannabis plants were seized.
As well as the three men arrested in Bradford Leigh, another man was held in Stoke St Michael in Somerset.
Sgt Scott Hargreave said: "The whole thing was very elaborate. They had a door mocked up as a bookcase.
"Initially, looking at it, you would never have realised.
"But eventually one of the team moved some of the coats off the wall and as they did that they pulled a nail and this book case which was on a hinge - just swung out.
"It took us into another corridor where there were another three rooms.
"They put a lot of time and effort into trying to conceal this place."