Wiltshire man to camp in town centre to raise money for disaster charity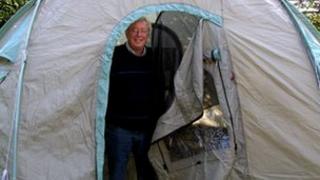 A Wiltshire man is spending seven nights in a town centre tent to raise money for disaster charity ShelterBox.
Terry Williams, who is a member of Swindon North Rotary Club, will camp in one of the organisation's emergency tents in Highworth's Market Place.
Mr Williams, who wants to experience first hand what living in a ShelterBox tent is like, admitted he was "a little anxious" about the experience.
"I'm pleased to hear they [the tents] are warm and cosy," he said.
"It will provide an opportunity for local people to see what the ShelterBox itself provides."
'Tragic events'
Local school children are already planning to visit Mr Williams and the Rotary Club, which has worked with ShelterBox for many years, will hold its regular weekly meeting next to his tent.
ShelterBox provides shelter to people around the world who have been made homeless by natural and man made disasters.
Recently the charity has helped people affected by Typhoon Washi in the Philippines and those hit by flash floods and landslides in Brazil.
"I want to raise funds and awareness of the fantastic benefits ShelterBoxes bring to families affected by such tragic events," said Mr Williams.
A ShelterBox box costs £590 and includes a first aid kit, camping equipment and tools, and can be adapted to each area and disaster.
The charity said it was unaware of any fundraiser camping out for more than one night and never in the middle of winter.