Row over reopening of Sir Edward Heath's home Arundells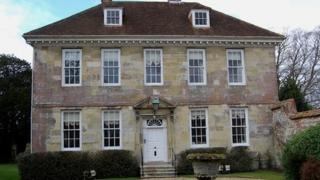 Salisbury Cathedral has objected to plans to publicly reopen former Prime Minister Sir Edward Heath's home.
The foundation which owns Arundells wanted to sell the house because it cannot afford to run it, but the sale was blocked by the Charity Commission.
Trustees have now applied to Wiltshire Council to reopen the property, which is currently closed, for three years.
But a letter of objection sent on behalf of the cathedral claims it would "change the character of the area".
The historic house in Cathedral Close, Salisbury, where Sir Edward lived for the last 20 years of his life, was left to the nation and opened to the public in 2008.
'Attempt to torpedo'
Despite attracting more than 45,000 visitors in less than four years, trustees of the Edward Heath Charitable Foundation maintain that it is not financially viable.
But following a Charity Commission ruling in September, the foundation has agreed to test the "feasibility of a three-year business plan" and has applied to the council to reopen the property from 2012.
A week after the public consultation into the planning application ended, the council has received a letter of objection sent on behalf of Salisbury Cathedral.
The letter, sent on behalf of the cathedral, said that the Church "has not raised objections to the previous temporary part opening" of the house "in deference to its previous owner and his wishes, and in the belief that this was to be a limited provision".
It states that the cathedral is concerned that reopening Arundells "might change the character of the area" by "reinforcing the element of commerciality".
The letter said: "In our client's opinion, No. 59 The Close was built and occupied as a private residence and should remain so."
'Extremely unexpected'
Tony Burnside, from Friends of Arundells, said: "This is extremely unexpected and most unfortunate that the cathedral has attempted to torpedo this planning application at the last moment.
"We had hoped to work with the cathedral to promote musical scholarships.
"The opposition of the cathedral to the planning application will dismay many Christians in Salisbury."
The public consultation, which ended 9 February 2012, attracted more than 150 letters of representation including a letter of support from The Rt Hon Lord Howe
Wiltshire Council is expected to make a decision before 1 March.