Tisbury gets nearly £1m from housing developer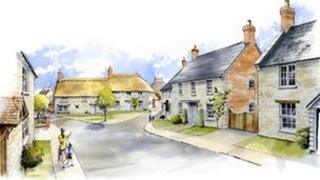 A village in Wiltshire is getting almost £1m from a housing developer which has just started work on building 90 homes there.
CG Fry and Son is giving £975,000 to residents in Tisbury, near Salisbury, to fund local facilities.
Patrick Duffy, from Tisbury Parish Council, said more than half of the money would go to local schools, mainly to cope with the new influx of pupils.
A public consultation is now under way on how best to spend the money.
'Locally controlled'
"The remaining £470,000 is going to come to the parish and will be very locally controlled by the parish council," added Mr Duffy, who suggested the money could go towards the community and its infrastructure.
"There's going to be more people, a 10% increase in the number of houses. The village is going to have to accommodate all these extra people and that [money] is something that's going to make it a bit easier."
The new development at Wyndhams Place, Hindon Lane, attracted controversy when it was first proposed more than six years ago.
Since then it has attracted general support and construction on the 90 properties, which are a mixture of residential and commercial, started this year.
"These days developers always enter into discussion with the local authority about what might be provided for the community, in general," said CG Fry & Son's managing director, Philip Fry.
"I think what we have arrived at here will be of real value to local people."
'A real mix'
Mr Duffy said: "There are certainly some affluent people who live here but there are also less affluent people as well.
"It's a real mix. We're going to try and recognise that, with what we do with the funding."
He said about 40% of the new homes would be low-cost housing, for local people in particular.
Suggestions to BBC Wiltshire from local residents on how to spend the money have so far included improvements to the village's outdoor pool, a new sports pavilion, and a car park near Tisbury railway station.