Salisbury Cathedral running budget in 'good shape'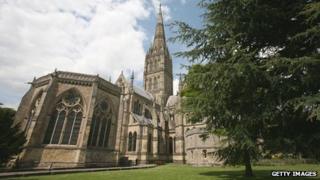 Salisbury Cathedral has seen a surplus in its accounts for the first time in ten years, figures have shown.
The cathedral, which costs £4.4m a year to run and receives no financial help from the Government or the Diocese, is said to be "in good shape" financially.
A spokesman said the surplus, from the 2010/11 financial year, demonstrated that the work done on fundraising in recent years had been very successful.
The cathedral is now on course for a second successive surplus this year.
Visitors to the 752-year-old building are asked to make a suggested donation of £5.50 per adult.
From April, that suggested donation is to increase to £6.50 per adult and £5.50 per student. 
'Realism'
The Revered Canon Mark Bonney, the treasurer at Salisbury Cathedral, said: "It is always hard asking for money from people but we just have to keep doing that as gently but as firmly as we can.
"We do it with a degree of reluctance but with a realism that if places like this want to remain here then it costs."
A major repair programme to safeguard the fabric of the building, which began in 1986, is around 75% complete and has so far cost approximately £24m.
The donations from visitors and members of the public cover around 30% of the cathedral's running costs.
David Coulthard, from the Cathedral office, said a lot of work had been put in to make sure the cathedral remained on a sound financial footing.
"It is a challenge to make sure that we continue to do all the things that we would like to do and that we make sure that we are safe financially," he said.
"Our fundraising department is a very important part of making sure that this cathedral does all the things that it needs to do."