Swindon £65m leisure centre revamp deal signed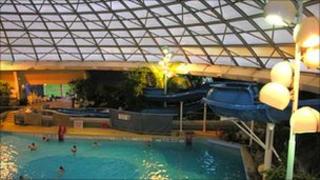 Work on a £65m redevelopment of Swindon's Oasis Leisure Centre will start soon after a deal was reached between the council and developer.
Swindon Borough Council and Moirai Capital Investment Ltd have signed leases to bring a ski slope, water park and concert arena to the town.
The first phase of the scheme will see a replacement of the dome roof and refurbishment of the leisure centre.
About 1,700 jobs will be created by the work.
The council has granted Moirai four long-term leases covering the Oasis and the former Clare's Equipment warehouse site. If targets are not met in delivering the new facilities, the council has the right to take back the leases.
Keith Williams, Swindon Borough Council's cabinet member for leisure and corporate services, said: "The signing of the leases is a major step forward in our plans to turn Swindon into a major leisure destination.
"I look forward to seeing the development progressing over the coming months."
Work is expected to start on refurbishment of the leisure centre in early summer.
The council hopes that once completed, the development will be a "major regional leisure destination" attracting an estimated four million visitors a year.