Cat found tied-up and dumped in Chippenham street drain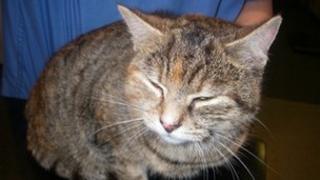 A cat has been found tied up in a pillow case and dumped down a drain in Wiltshire.
A person was alerted to the trapped animal's cries in Larkham Rise, Chippenham, at 15:30 GMT on 19 March.
An RSPCA inspector rescued the adult female cat, which was inside a knotted white and floral pillow case about three feet (90cm) down the drain.
The cat was unhurt and in good condition, but "very traumatised". The RSPCA has appealed for information.
An RSPCA spokesman said: "Luckily, the drain she was found in was dry but if there had been heavy rain she could have faced a horrendous death by drowning."
The tabby and tortoiseshell-coloured cat is now in foster care.
The RSPCA is asking for anyone with information about the incident to contact them.