Duchess of Cornwall visits Wiltshire farm project for vulnerable children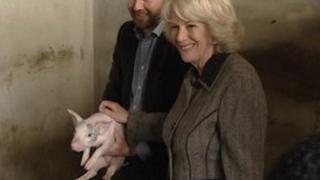 The Duchess of Cornwall has visited a Wiltshire farm project which aims to help vulnerable children.
The Jamie's Farm charity helps deprived inner city teenagers, some with special educational needs, by letting them experience life on a farm.
The duchess joined pupils from Burlington Danes Academy, in West London, at Hill House Farm in Box where the charity operates.
Founder Jamie Feilden described the royal visit as a "real honour".
The pupils, whose ages range from 11 to 16, are spending five days at the farm during which they will learn skills such as carpentry and felting as well as how to muck out the pigs.
The duchess spoke to them about their experiences on the farm and congratulated Mr Feilden, describing the project as "inspirational".
Mr Feilden said the project aimed to help children from urban schools at risk from "social exclusion".
He said their time spent at the farm was designed to boost their self-esteem and help improve their interaction with each other and their teachers.