Wiltshire council to vote on 'loan shark' crackdown team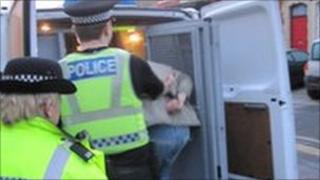 A specialist team may be brought in to crack down on Wiltshire's loan sharks.
The council is expected to approve a plan later to enlist the Illegal Money Lending Team from Birmingham.
The team, run by Birmingham City Council, was set up in 2004 and gives advice and assistance to those affected by loan sharks.
Judith Hyble, director of Wiltshire's Credit Unions, said the county's problem was not something "a crack team would be too bothered about".
"The registered social landlords do tell me that there are the odd incidents out in the country in Wiltshire but on a very local scale," she said.
"Any problem that there is is going to be mainly in Swindon and possibly in somewhere like Trowbridge - certainly there are some very relatively poor places in Salisbury where it could be going on."
But Steve Clover, head of consumer protection at Wiltshire Council, said in the last year the council had received "over a dozen complaints about alleged illegal money lending".
"The actual numbers in Wiltshire - we're not clear about," he said.
"We don't quite know the scale of the problem but that's the beauty of bringing in the national team and the national helpline is that hopefully it will drive this trade out into the open and we can tackle them."