Honda welcomes 500 new employees to Swindon plant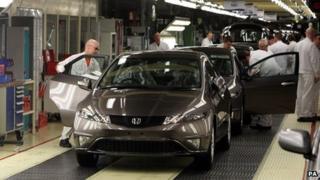 Japanese car manufacturer Honda has welcomed 500 new members of staff at its Swindon plant.
The expansion was announced in December and takes the number of workers at the plant to 3,500.
An extra shift has been introduced and production is expected to almost double to 180,000 cars in 2012.
Honda director Andy Piatek said it was an important day for the company. "I am delighted to welcome our new associates," he said.
The firm said the second shift at the South Marston site coincided with growing demand for its new Civic hatchback models.
'Two-pronged attack'
Professor Garel Rhys, director of the Centre for Automotive Industry Research in Cardiff, welcomed the announcement.
"It's very good news to hear in a way there's a two-pronged attack," he said.
"One, you're going to get the extra workers taking up the workforce to this colossal 3,000 plus, that's an amazing number in this day and age.
"But it's going to be reinforced by a new product."
In April, workers in Swindon scaled back production to two days a week after the earthquake and tsunami in Japan.
Flooding in Thailand then stopped production at the factories that make some electronic components for cars built at Swindon.
Staff worked reduced hours from September to November.