Carillion admits shortfalls in Great Western Hospital staff behaviour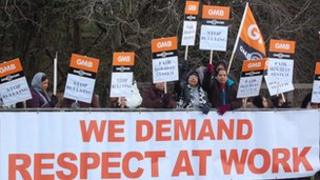 The employer of hospital workers who went on strike over alleged bullying has admitted there were shortfalls "in the expected standards of behaviour".
Cleaners, porters and catering staff at Great Western Hospital staged strikes in a dispute with their employer Carillion in February and March.
Carillion says training in improving communication between staff and managers will come into force.
The company has announced the interim results of its investigation.
Carillion said it was still investigating other serious issues, including allegations of intimidation and gift-giving among staff and supervisors.
The GMB union also said its members had been banned from taking more than two weeks' holiday at a time.
'Disciplinary action'
Carillion said a temporary ban had been introduced "for operational reasons", but was no longer in place when the grievance was raised.
The holiday policy has now been reissued to staff to clarify the rules, the company said.
Gemma Lynch, Carillion facilities general manager at the hospital, said: "During the investigation, it has become clear that many of our staff have been confused about a number of our policies and procedures.
"Disappointingly, there is evidence to suggest there have been shortfalls in the standards of behaviour we expect of our people.
"Carillion does not tolerate bullying, intimidation, or inappropriate inducements of any kind.
"Measures, including appropriate disciplinary action, will be taken to underpin these central company policies."