Wildlife trust study warns of environmental threat in Wiltshire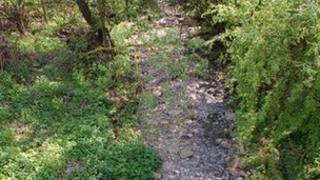 A new environmental report says changes in Wiltshire are threatening the county's rivers, plants and wildlife.
The study by Wiltshire Wildlife Trust (WWT) and Wiltshire Council measured housing figures, carbon emissions, air quality and biodiversity.
It found carbon emissions in the county were higher than the UK average and river levels were too low.
WWT's Gary Mantle said the report shows that residents must not take the environment for granted.
Around 44% of Wiltshire is an area of outstanding natural beauty and 14% is recognised as a Site of Special Scientific Interest.
'Unacceptable impact'
The recently-published report commissioned by NHS Wiltshire as part of the Joint Strategic Assessment compares data collated with the rest of the UK.
It found that in the most recent study in 2009, the county's carbon emissions were 18% higher per person than the English average.
Figures showed 70% of rivers were over-abstracted, where too much water is removed and none is available, or over-licensed, causing an unacceptable environmental impact when rivers are low.
It also showed that 278 wild plant and animal species in Wiltshire are in need of conservation action.
Dr Mantle said: "When we're surrounded by such beautiful countryside, it's easy to think that all is well. Yet each of us depends on the environment and has an impact upon it.
"The long-term trends highlighted in this report show that we can't afford to take anything for granted."