Fans celebrate Swindon Town's promotion with a pitch party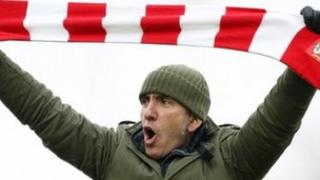 Thousands of fans have turned out to celebrate Swindon Town FC's promotion to League One with a party on the pitch.
The club secured automatic promotion from League Two despite a 3-1 defeat away at Gillingham on 21 April.
Paolo di Canio was appointed manager less than a year ago but in his first season has guided the club's immediate return to League One.
The Lightning Seeds and Toploader are to perform at the end of season event.
The event is to "thank fans for their outstanding support during the campaign and to stage the traditional end of season awards", a club spokesperson said.
It will be the first end of season event to be held at the County Ground.
Singing di Canio
The Lightning Seeds will headline the 15,000 capacity "Party on the Pitch", and Toploader and Franc Cinelli will also be performing.
Dan Hipgrave, from Toploader, said the band were thinking of inviting the town's manager on stage to sing with them.
"I think that might be happening," he said. "We're all big football fans and Paolo is obviously a bit of a legend so when you're asked a question like that you don't say 'no' really."