'Heartbreak' over cannabis farm at rented home in Trowbridge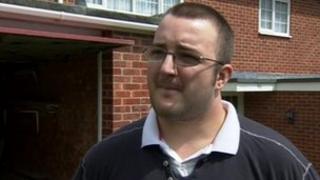 A landlord from Wiltshire says he is heartbroken after discovering his four-bedroomed home had been turned into a cannabis factory.
Shaun Thomas had rented the property in Trowbridge to a couple for £850 per month more than a year ago.
He said he visited the property last October after suspicions were raised by his neighbour.
A spokesman for Wiltshire Police said it was investigating but no arrests have been made.
'Stress and strain'
"When I arrived [for the inspection] they were cooking onions to get rid of the smell and the kitchen ceiling was badly water-damaged and bowing," Mr Thomas said.
He said the occupants fled after he broke the door into the master bedroom down and discovered it was "full to the brim" with cannabis plants.
"There were 498 plants found with a [street] value of £250,000. They'd bypassed my electric supply and there was 15 boxes powering lights.
"It's heartbreaking and has caused a lot of stress and strain and potential financial difficulties which have arisen because of this."