Plans for second Trowbridge cinema 'should be refused'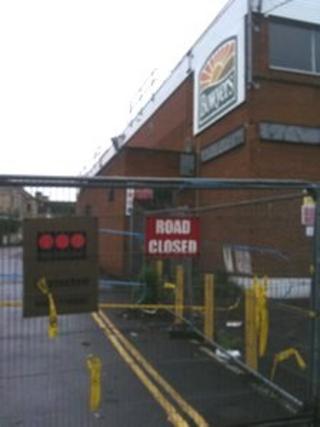 Plans for a second cinema complex in a Wiltshire town are being recommended for refusal by planners.
Councillors approved a seven-screen cinema for land at St Stephen's Place, in Trowbridge, in February.
Wiltshire County Council will be asked to vote on a similar development for the old Bowyers site later.
Prorsus, the company behind the latest proposals, said it would create 400 jobs and bring £6m extra spin-off spending to the town centre a year.
The plans include an eight-screen cinema, Morrisons supermarket and restaurants.
'Derelict site'
Alistair Cunningham, the council's director of economy and regeneration, said: "Yes we do want jobs, but jobs on this site will be at the expense of jobs on the other site.
"Either site is sustainable but both aren't.
"Within five years one would be failed and we would have a derelict site for regeneration again."
Mr Cunningham said the site could potentially be used for a sports centre, college campus or offices.
But Angus Horner, managing director of Prorsus, said: "All of our occupiers are committed to our scheme regardless of what else is proposed in the town.
"They are all quite clear this is an opportunity for them to deliver jobs and trade quite successfully in the town."