Cleaners strike at Swindon Great Western Hospital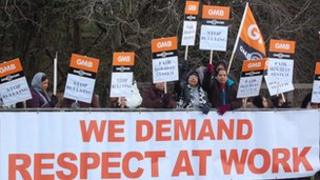 Cleaners at Swindon's Great Western Hospital have walked out again in a row with their employer, Carillion, over leave and claims of bullying.
Workers have already taken 18 days of strike action and further action was called off while the firm investigated.
In an open letter to staff, Carillion said it had been working hard to address some of the concerns raised.
The company acknowledged there were "issues to be addressed" but said the action was delaying the process.
The letter said Carillion wanted to announce it findings to staff by the end of May and to report back on all individual grievances by the end of June.
"The planned strike action threatens to derail our timescale," it said.
'Minimal disruption'
"We are doing this in difficult circumstances given that a large number of collective and individual grievances have been raised, and in the face of industrial action and other disruption which has been led by the GMB [union].
"Nonetheless, we are committed to working with our employees to address all of their complaints."
The GMB submitted a formal complaint by 109 members of staff over allegations of managerial bullying in December.
A spokeswoman for the Great Western Hospital said it had plans in place to ensure "minimal disruption" to patients and services.
"Patients are being advised to turn up for their appointments as normal," she added.
A public meeting is due to be held on Wednesday evening where Doreen Lawrence, the mother of murdered teenager Stephen Lawrence, will join other speakers to show their support for the campaign.
The meeting takes place at the Pilgrim Centre, Regent Circus between 19:00 and 22:00 BST.