Olympic torch relay: Charity founder's joy at taking part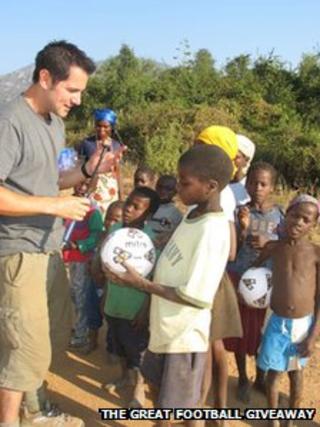 A charity founder who has delivered more than 25,000 footballs to children in Africa said he was "really excited" to be the first person to carry the Olympic torch in Wiltshire.
Paul Clarke was nominated to take part in the UK-wide relay for his work in some of Africa's poorest areas.
The 39-year-old from Codford set up The Great Football Giveaway with his wife, Sarah, in 2006 following a holiday to Africa six years previously.
He will carry the flame through Southwick on 22 May.
"I'm just really excited. I love so much about the Olympics," said Mr Clarke.
"I love the fact that it's about sport. It's about hopefully inspiring a load of people to get into sport, especially kids. So if I can do my bit to be part of that then that'll be fantastic.
"I grew up as a kid in Wiltshire, so it feels great to be the first person."
Mr Clarke is one of 8,000 people who will carry the Olympic torch during the relay.
The relay begins its 8,000-mile journey around the UK at Land's End, Cornwall, on Saturday and will reach the Olympic Stadium in London on 27 July.
'Inspiring individual'
While working with The Great Football Giveaway project, Mr Clarke has navigated landmines in Angola, seen the rehabilitation of child soldiers in Rwanda and smuggled balls across the border into war-torn Congo.
His nomination testimonial from Steph, one of the charity's volunteers, said: "Paul is an inspiring individual to his local community, determined to help put smiles on kids' faces by ensuring no child is denied the simple pleasure of kicking a ball about.
"Paul represents the Olympic spirit of peace, hope, respect and friendship."
"That's their joy of football - its simplicity. All you need is a ball and someone to kick it to," added Mr Clarke.
"With this in mind I accepted that I'm not a doctor who can administer anti‐retroviral drugs, I can't build wells and I'm not an engineer.
"But I could find a way to help put smiles on kid's faces. This was why we set up The Great Football Giveaway."
The husband and wife team delivered their first lot of footballs, 3,000 in total, to children in Malawi in May 2006.
Since then, the duo and their team of volunteers have organised projects in countries including Uganda, Angola, Zambia, Rwanda, Tanzania, and the Democratic Republic of the Congo.