Boat 'in distress' parked on Swindon driveway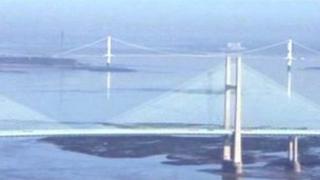 Children playing on a boat parked on a driveway in Swindon are thought to have sparked a full-scale rescue effort in the Severn Estuary.
Coastguards in Swansea received an emergency signal last Friday evening on their Severn Bridge aerial.
Lifeboats from the Severn Area Rescue Association were launched from Chepstow and Sharpness - but found nothing.
After a second SOS call on Saturday it emerged the boat was not at sea but safely parked outside a house.
It is not known if the boat's owner will face a bill for the rescue operation.
Call to shipping
Although the boat was registered to an address in the Southampton area, it had been sold to a new owner from Swindon.
A Maritime and Coastguard Agency spokesman said that in order to trigger the distress signal, a cover on the radio had to be lifted and then a button pressed for five seconds.
Normally this is linked to the boat's GPS navigation system so it can report the vessel's position.
"We received the signal on the Severn Bridge aerial but it had no location information on it... because we couldn't identify the position we thought the distressed vessel may have been in the River Severn area near the crossings," he said.
"As soon as we received the digital selective calling signal from the vessel we put out a call to all shipping in the River Severn area for assistance and lifeboats from the Severn Area Rescue Association were launched from both sides [of the river].
"We respond to distress alerts until we effect a rescue or we find out nobody is in danger."