Salisbury shop owner blames council for closure on posters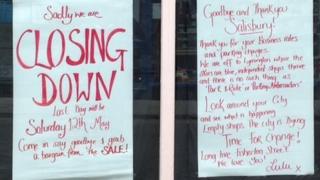 A shop owner in Salisbury whose business has closed left posters in the window of the vacated premises blaming the council.
Lucinda Boddy, who ran Lulu's Boutique in Fisherton Street, said the city was "dying" due to parking charges and the level of business rates.
She said: "The council should be encouraging people to come into the city, not driving them away."
Wiltshire Council said it was working hard to support local businesses.
Ms Boddy said she left the posters in the window of the shop, which closed on Saturday, because she "wanted people to know what was happening in Salisbury".
"The parking has had a huge impact. They put the charges up a year ago and we genuinely noticed less people coming in. All my customers complained about it."
Ms Boddy said local business rates were "horrendous", but even those would be manageable if the council offered free parking.
"I know retail and High Street shops are suffering across the country in this economy, but the council are not helping us.
"If they carry on like this, they'll just have an empty city that no one wants to go to."
A Wiltshire Council spokesman said it was always "disappointed" when local businesses closed.
He said the authority was bringing forward proposals for a Business Improvement District, in which firms pay an additional tax or fee to fund upgrades in the area.
He also said the council was working with city regeneration programme Salisbury Vision on projects "directly targeted at improving the economy and business environment in the city centre".
These include improvements to the Maltings and central car park, and the city's public transport system.