Salisbury Plain illegal drivers targeted by MoD police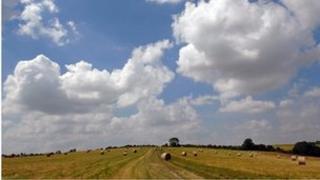 The Ministry of Defence Police have been targeting people illegally driving across prohibited areas of Salisbury Plain.
Fines are being handed to motorists caught in the military training area.
Officers said the public must stick to marked byways and official tracks, and going off-road could be dangerous and could damage the grassland.
In one day, 35 vehicles were checked and 12 people fined. A motorbike being ridden without insurance was seized.
Sgt Mark Venning said the vast majority of Salisbury Plain was owned by the MoD.
"This is an operational military training environment so this clearly presents a safety issue, but there is also the fact that 20,000 hectares of grassland on the plain have been designated a Site of Special Scientific Interest and a Special Area of Conservation," he said.
"We have had reports that damage has been caused to this environment by these unauthorised vehicles and motorbikes driving across the grasslands and in the woods."
The MDP have teamed up with Wiltshire Police, the Royal Military Police, Training Area Marshalls and Landmarc Land Wardens for the crackdown.
Sgt Venning said: "MoD land on Salisbury Plain is subject to a range of by-laws which are posted on all access points so there should be no excuses for ignorance.
"These by-laws also give us powers of arrest for offences and allow us to remove vehicles and other property if they are being misused."