Swindon office block mural includes replica cars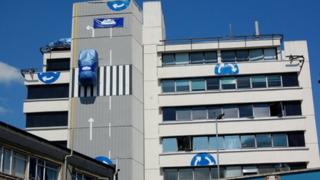 Two full-size replica cars have been installed on the side and roof of a seven-storey office block in Swindon, as part of a giant public mural.
A road, zebra crossing and a series of mini-roundabouts have been painted and positioned on the rear of Alexander House in Fleming Way.
The artwork is currently under wraps but is due to be unveiled in June.
The building's owners launched a competition in November for ideas to revamp the outside of the building.
The objective, according to Lenta Business Centres, was for a design that "might transform it into a celebrated landmark building".
A spokesman for the company said it took the firm tasked with installing the artwork about a month to paint and drag the cars up the building.
"But they've finished the work now and timers for the lights have been installed - so it will be visible at night," the spokesman said.
"The cars are covered in tarpaulin at the moment but after they're unveiled, in the next two to three weeks, they will be there for about three years."
Planning permission for the public artwork was granted by Swindon Borough Council last year.