Fire at scrapyard in Westbury being treated as 'suspicious'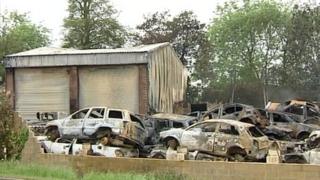 The cause of a major fire which burned overnight at a Wiltshire scrapyard is now being treated as suspicious by fire investigators.
Acetylene cylinders on the West Wilts Trading Estate, in Westbury, had complicated efforts to extinguish what was described as a severe blaze.
A brigade spokesman said the fire was in a confined space with "a lot of cars packed up in a small area".
Fire crews were called to the scene at about 21:15 BST on Monday.
"The investigation has now been passed on to police," the fire service spokesman added.
A Wiltshire Police spokesman confirmed officers were investigating.
"There's also likely to be some disruption [to the public] for the next 24 hours due to the gas canisters.
"Anyone who can help the investigation is asked to contact Melksham CID," he added.
Some 40 firefighters had spent the night tackling the blaze, which was finally extinguished by midday.
A large number of scrap cars had been involved in the fire, as well as a workshop at the scrap yard.
An exclusion zone, originally set at 200m (650ft), has now been reduced to "a small cordon".