Great bustard eggs from Russia to be flown to Wiltshire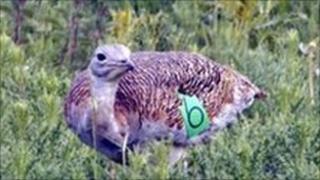 Great bustard eggs are to be flown from Russia to be hatched in Wiltshire for the first time.
The world's heaviest flying bird was hunted to extinction in the UK in 1832. It was reintroduced to Salisbury Plain in Wiltshire in 2004.
Since than more than 100 birds hand-reared in Russia have been released by the Great Bustard Group (GBG).
David Waters from the GBG said: "Moving eggs could become a cheaper way than moving chicks when they're older."
An adult great bustard can be up to a metre (3ft) tall and weigh up to 44lb (20kg). Its wingspan can reach nearly eight feet (2.4m).
The bustard's size made it an easy target for hunters, leading to its extinction.
'Stressful' journey
But in the past eight years a population of around 18 has been established from chicks brought from Russia.
This year eggs, rescued "from nests destroyed by agriculture", will be flown over for the first time.
"We have to be careful we don't end up with eggs hatching on the way back," said Mr Waters.
"That would give us a practical problem and also a bit of a paperwork problem as all the paperwork says 'eggs' and if they suddenly turn into chicks - there might be a problem there."
In 2009, the first great bustard chicks in 177 years hatched in the wild in the UK.
And last year, at least four chicks hatched and two chicks were successfully reared to fledging.
"It's a two-day journey from the field station up to our site in Wiltshire and it's bad for me and it must be worse for the chicks - it's fairly stressful," added Mr Waters.
"So by bringing eggs back - we could start the release process earlier in the year which we think is to the advantage of the chicks as well."