MOD staff are recruited to collect insects in Wiltshire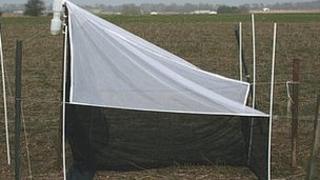 Ministry of Defence (MOD) staff have been recruited to collect insects in Wiltshire, for a research project.
Traps are to be set on the 2,500 hectare (6,177 acre) Defence Science and Technology Laboratory (DSTL) estate at Porton Down, near Salisbury.
DSTL staff have attended an insect identification course and will carry out the initial sorting of samples.
The joint project with the Natural History Museum is to improve knowledge of the biodiversity of UK insects.
Nine traps will be set up to collect insect samples across the site next spring.
Stuart Corbett, DSTL conservation officer, said the project was a "valuable collaboration between two of this country's foremost scientific organisations".
"It is expected that rare and interesting species will be recorded, catalogued and retained in the national collection for future use." he said.
Dr Erica McAlister, from the Natural History Museum (NHM), said the research was important for "making informed decisions about UK conservation".
"Specimens will be deposited at the NHM for all to come and study," she said.
"As well as benefiting the national collections it also provides greater knowledge of the local habitats and so increases our knowledge of species ranges."