Memorial to be unveiled to mark RAF leaving Lyneham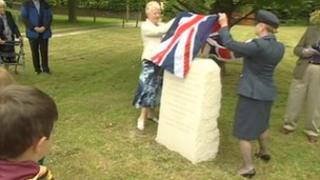 A commemorative stone to mark 70 years of the RAF being based in Lyneham in Wiltshire has been unveiled.
The RAF is due to leave the village by the end of the year and the base is to become a defence training centre.
An inscribed Portland stone memorial, a bench and an oak tree was unveiled on The Green earlier.
The parish council said the memorial is to be the "focus" for those "wishing to contemplate memories of both the RAF and RAF personnel linked to the base".
The ceremony forms part of the Queen's Diamond Jubilee celebrations in the village.