Diamond Jubilee: Events took place in Wiltshire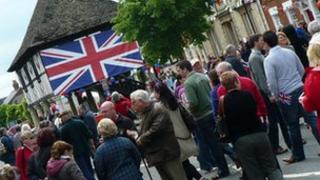 A number of events have taken place in Wiltshire to celebrate the Queen's Diamond Jubilee.
One of the biggest in the county was held in Hudson's Field in Salisbury which included a jousting tournament and parachute display.
Elsewhere in the county, a similar event was staged in Trowbridge Park in the town.
And Royal Wootton Bassett held a festival in the town's high street to celebrate the Queen's 60-year reign.
Dozens of street parties took place around the county and beacons were lit to mark the Diamond Jubilee.
See all the latest Diamond Jubilee news and features at bbc.co.uk/diamond jubilee