Swindon Great Western Hospital cleaners to strike again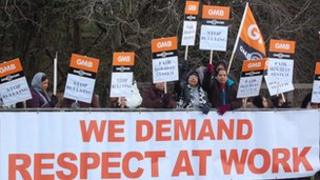 A 20th day of strike action is being planned at Swindon's Great Western Hospital, the GMB union has announced.
Hospital cleaners and domestic staff are expected to walk out on Monday 11 June.
Their long-running row with employer Carillion concerns leave, claims of bullying and intimidation.
Carillion said it was "dismayed" to hear another strike had been called and called the GMB "irresponsible" for causing disruption at the hospital.
'Corporate bullying'
"Carillion has now concluded its thorough investigation into the collective grievance at the Great Western Hospital, Swindon," said a spokesman.
"We are organising a series of team talk internal meetings for all of our 398 employees.
"These will take place over the week beginning Monday 11th June. We have issued staff with a short summary document to prepare them for these meetings.
"It is irresponsible to yet again cause disruption at the hospital when we are clearly addressing all our employees' concerns and there is no reason for any ongoing dispute.
"It also shows the GMB seem set on their own campaign regardless of the actions we take to resolve all the grievances raised."
Workers have already taken 19 days of strike action since February. GMB members allege Carillion has failed to deal with the union's complaints.
Paul Maloney, national officer of the GMB, accused the firm of failing to deal with a "clear case of corporate bullying".
The workers will travel to the GMB's national conference in Brighton on the strike day to explain their case to delegates.