Lyneham Stage Club auctions off props and costumes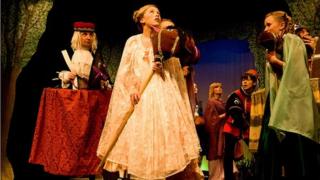 Ever wanted an Eskimo outfit, a skeleton costume, false breasts or clothes for a pantomime dame?
Hundreds of items of theatrical equipment from a Wiltshire theatre company are to be sold off following the closure of RAF Lyneham.
The scheduled closure of the air base later this year has left the Lyneham Stage Club, which has put on plays and pantomimes since 1969, homeless.
Props and costumes will be sold at auction in Cirencester next week.
Christopher Bartle, who has been a member of the club since 1979, said: "We're going to try and keep the club going, but we have nowhere to rehearse and certainly nowhere to store everything, which is why we're selling it."
'Eskimo costumes'
Forty years' worth of equipment amassed by the group will be up for grabs, including a scenery lamp post, a sign pointing to "The Castle", two spears, a statue and a collection of broom handle hobby horses.
Wardrobe manager Patsy Bartlett said: "We're selling everything from shoes and sandals to bustles, bumps and [false] boobs.
"We've got a set of adults' and children's Eskimo costumes from The Snow Queen, pantomime dame outfits, period military costumes and clothes from the 20th Century."
Sound and lighting equipment and even the stage curtains, will also go under the hammer.
Lyneham Stage Club's permanent theatre was opened in 1969.
It was renamed The Juliana Goss Theatre in 1977, following the death of the actress and military wife who badgered successive station commanders into building a purpose-built theatre.
The club began by recruiting actors from the ranks of military personnel and their families, but over time it attracted members of the civilian community too.
The auction will take place at Moore Allen and Innocent in Cirencester on 15 June.