Kevin McCloud's eco-development in Swindon is delayed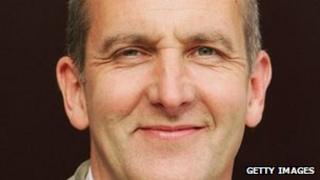 A plan to build 241 eco-homes in Swindon, designed by the TV presenter Kevin McCloud, is being held up whilst a public consultation takes place.
HabOakus wants to build homes on land at Pickards Field in Gorse Hill.
The building firm said it had suspended "its activity on this project" until the council's consultation over the land is concluded.
Swindon Borough Council said a planning application had not been submitted and discussions were continuing.
A council spokesman said: "The council recently agreed it would consult more widely with local residents on the overall project.
"It is the decision to carry out this consultation that the developer is referring to in the quote about their suspending activity on the project."
A small strip of land has to be acquired by Swindon Borough Council to enable access to the homes.
Campaigners suggest a covenant attached to the land might prevent its development.
But the council spokesman added: "The small strip of land is not being consulted upon, and is a separate, much smaller issue which is not capable of derailing the entire scheme."
He said it was the developer's responsibility to put in a planning application, and that any application must satisfy the planning process and be approved.
HabOakus is a joint venture between Mr McCloud's company Hab and housing group GreenSquare.
Mr McCloud was the presenter of the TV development programme Grand Designs. He previously designed The Triangle, a 42-home scheme in Swindon.