Great Western Hospital cleaners take further industrial action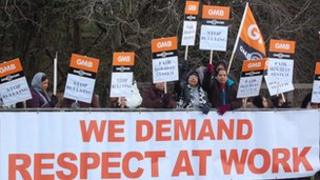 Hospital cleaners and domestic staff are taking part in their 20th day of strike action at Swindon's Great Western Hospital.
Their long-running row with employer Carillion concerns leave, claims of bullying and intimidation.
The action comes after an internal report which identified a small number of incidents of "unacceptable racist behaviour" at the hospital
It said those involved would face "appropriate disciplinary action".
'Serious lapses'
The management inquiry was started after a collective grievance was submitted by 132 members of staff in December 2011 concerning allegations Goan employees had been "intimidated or threatened" and that there were restrictions on staff taking more than two weeks' leave over the Christmas period when many wanted to return home.
The results of the investigation, released to staff by letter on 31 May, found there was no ban on taking extended leave at Christmas but stressed operational requirements would remain a key factor in agreeing staff leave.
It now plans a series of meetings with staff starting on Tuesday to discuss the issues raised.
"We have been very concerned to be told of instances of racist behaviour although this was confined to a small number of individuals," Carillion facilities manager Gemma Lynch said.
"I am very concerned to have uncovered some serious lapses in individual behaviour which have fallen far short of the standards and values for which Carillion stand," Ms Lynch added.
Andy Newman from the GMB said the union was pleased Carillion had acknowledged there was a "serious problem" at the hospital and hopefully we can work together to resolve them.
"Now is the time to resolve this but unfortunately Carillion are still not talking to us.
"I think all of these issues could be resolved quite easily if Carillion want to but it seems to me they are still in a state of denial that not talking to the GMB is more important to them than resolving the issues.
"Without the strike action there wouldn't have been this serious investigation.
"We are now in a position where although Carillion do admit the issues occur are not putting into place the steps that will recover and rebuild the confidence of their staff," he added.