David Ainsworth 'very upset' by police investigation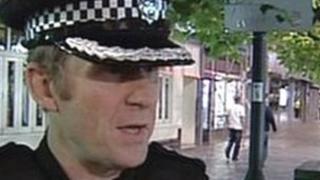 A senior policeman was "very upset" after hearing that 50 colleagues made statements about him, an inquest heard.
David Ainsworth, 49, Wiltshire Police Deputy Chief Constable, was found hanged after allegations he sexually harassed female members of staff.
The inquest was told that Mr Ainsworth was shocked that South Wales Police, which was overseeing the inquiry, had taken that many statements.
The hearing at Trowbridge Town Hall is expected to end later.
For and against
Lynne Owens, Chief Constable of Surrey Police, told the inquest that she had been appointed to act as a "friend" to Mr Ainsworth during the investigation.
She said that it had been a "difficult conversation" when he had become aware of how many people had been asked for statements.
"Colette [Paul - the Deputy Chief Constable of South Wales Police] described that some were in support of David's position and some were against David's position and some were neutral," she said.
"He became very upset at that many people in his organisation had been spoken to about him."
Mr Ainsworth was found dead in his garage last year at home in Potterne, Wiltshire.
He was notified in September 2010 that allegations of misconduct had been made against him.
An investigation began using officers from a different police force and Mr Ainsworth was removed from his duties and later placed on secondment.
After this he became badly depressed and started taking medication from his doctor.
'Being silly'
Mrs Owens said she was "really concerned" after meeting him to discuss new developments in the investigation in February last year.
"We spent an hour in a coffee shop together and he extrapolated an endgame which saw him losing his job, his family, his relationship and his children, and that was devastating to him," she told the inquest.
In a later conversation he said that he "might have found" a way out but, when challenged, replied that he was "just being silly".
On Monday the inquest was told that Mr Ainsworth was "humiliated" over the allegations and one senior officer had told told him it was a witch hunt.
His widow Emma Ainsworth said she and her husband had been going through a difficult and lengthy divorce, while his partner Jo Howse, whom he lived with, added that "he felt that certain individuals had colluded".
The inquest continues.