Womad Festival licence challenged by Wiltshire Police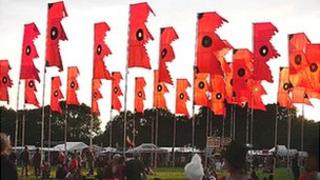 The licence that allows the Womad Festival to be staged has been challenged by Wiltshire Police.
The music festival, co-founded by Peter Gabriel, has been held on the Charlton Park Estate near Malmesbury since 2007.
But on Tuesday Wiltshire Police asked the council to review the licence following a disagreement with the organisers over policing the event.
Womad said it had been "surprised to learn" the force was questioning the festival's licence.
The festival, which features music from around the world, is due to be held from July 27-29 and is expected to attract about 35,000 fans.
In a statement, the force said: "Womad and Wiltshire Police did not reach an agreement in relation to special policing services for the 2012 Womad event by the agreed deadline in June.
"As a result Wiltshire Police are now challenging the legality of the licence for the event."
It went on to say: "Wiltshire Police have a responsibility to ensure the public can attend Womad with an appropriate policing plan in place to ensure that all can have a safe and enjoyable event."
'Proposal rejected'
A spokesman for Womad said it had been in "ongoing and open discussions" with Wiltshire Police for several months and was surprised that the force was "planning to request a judicial process".
"In a letter received on the 11th June the police imposed a five-day deadline of the 16th June - for agreement," the spokesman said.
"Womad submitted a revised proposal for policing by the imposed deadline.
"We now know that that proposal has been rejected by the Wiltshire Constabulary, and we are seeking clarification for the reasons they have taken this action."
A Wiltshire Council spokesman said: "North Wiltshire District Council provided them [Womad] with a four-year licence in 2008.
"The current process is happening because of the police challenge, not because the licence was up for review."
There will now be a 28-day consultation period, ending on 17 July, followed by a licensing committee hearing which has been "pencilled in" for four days before the festival is due to open.