Stonehenge visitor centre preparation work begins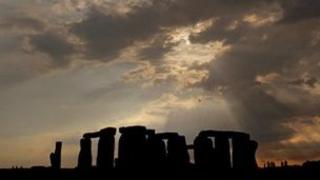 Preparation work has begun ahead of building a new multi million-pound visitor centre near Stonehenge.
Pre-construction tests are being carried out at the site and work on the centre itself will begin next month.
The tests aim to see if a ground water source can provide sufficient drinking water and energy for a year-round heating/cooling system for the centre.
The centre, about a mile-and-a-half (2.4km) west of the prehistoric stones, is expected to open in autumn 2013.
A Grade-II listed Airman's Cross memorial at nearby Airman's Corner will be re-sited in the grounds of the centre.