Earl of Cardigan taken to hospital from Salisbury court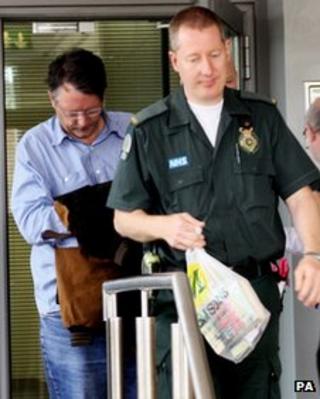 The Earl of Cardigan had to be taken to hospital after appearing in court charged with criminal damage and theft.
David Brudenell-Bruce, 59, was escorted from Salisbury Magistrates' Court by two paramedics and taken to an ambulance waiting outside.
His lawyer said she was concerned about his mental health before he was helped into the courtroom by security guards.
The earl, from Savernake, Wiltshire, is accused of damaging pheasant feeders and stealing a power unit.
District Judge Arbuthnot adjourned the hearing until 12 July and released him on conditional bail.
His lawyer, Marie-Claire Amuah, told the court: "I have seen Lord Cardigan this morning and throughout the day and I have formed the view that he is unfit to plead.
"I am unable to take instructions."
'Anxious and distressed'
She applied for the case to be adjourned on grounds of ill health and said the earl had agreed to be taken straight to hospital by ambulance if he was released on bail.
The earl, who had to be supported by guards during the hearing, said: "For 30 hours the police have detained me stopping all medical attention. I need a pill."
A mental health nurse assessed him at the court and said that, in her view, he was of low self-harm risk but "in an anxious and distressed state which had affected his communication".
The earl, of Savernake Lodge near Marlborough, was arrested by police on Tuesday and charged that night.
He is alleged to have damaged six pheasant feeders worth £66 between 4 June and 29 June and stolen a battery and electrical power unit, all belonging to Peter Tilley.
As part of his bail conditions, the district judge ordered him not to contact five named people or go within 50 metres of any property owned by them.