Womad Festival 'may go ahead without police presence'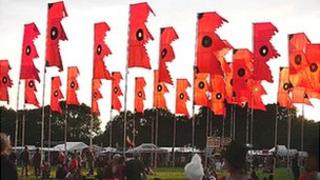 Organisers of the Womad Festival say this year's event will still go ahead even if an agreement over security is not reached with Wiltshire Police.
The music festival, co-founded by Peter Gabriel, has been held on the Charlton Park Estate near Malmesbury since 2007.
Wiltshire Police are challenging the licence following a disagreement with the organisers over policing the event.
Womad director Chris Smith said the event will see private security used, if no agreement with police is reached.
He said: "We don't want to go ahead without the police, but where we are at the moment is the police have said they are not coming, so we are now revising our plans to present to the licensing authority to show that we can run the event without the police.
"It's not where we want to be, but it's currently where we're heading."
'Level of policing'
A spokesman for Womad said he could not go into detail, but the dispute was over the "appropriate level of police services".
He said: "The difference of opinion on policing came to a head earlier this year when Womad commissioned an independent review of the policing of the festival, comparing crime levels and police levels at Womad with other leading UK events.
"The results of the study and other available information showed that though Womad is one of the safest festivals in the country, it has very high levels of policing compared with similar events nationally."
Malmesbury councillor Simon Killane said he believed the dispute was over "the policing arrangements and the financial arrangements".
"My view is that we've got a fantastic festival that's been running for many years with a great track record for safety - let's not blow it," he said.
"I hope it's not about money, but my guess is that money always comes into these things."
In a statement, the force said: "We have been in meetings with Womad and we continue to exchange information with them in an effort to reach a resolution which ensures a safe and enjoyable event."
The festival, which features music from around the world, is due to be held from July 27-29 and is expected to attract about 35,000 fans.
This year's line-up includes Patrick Wolf, Hot Water, Omar Pene and Femi Kuti & The Positive Force.