Trio found guilty of the murder of Semley man Leonard Adams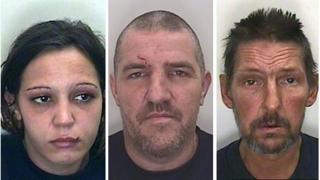 Three people have been found guilty of the murder of a man whose body was found in a field in Wiltshire.
The body of Leonard Adams, 43, who lived in Station Road, Semley, was discovered near the village on 15 October.
Charlie Chase, 25, Christopher Charles, 48, and Paul Chambers, 49, all of Station Road, Semley, had previously denied the charges.
The trio appeared at Winchester Crown Court and will be sentenced on 16 July.
The court heard that Mr Adams was living in a caravan in the grounds of The Kingsettle Arms, a disused pub.
He had been living there for some time before Charles, Chase and Chambers joined him in July 2011.
The court was told that when the landowner told Mr Adams they would all be evicted, tension built up within the group.
On 14 October, Mr Adams was beaten with a sharp weapon thought to be to be an axe, before he was strangled and buried in a shallow grave a mile and a half from his home.
Mr Adams' body was discovered in a field nearby the next day.
Wiltshire Police said blood was found around the caravan site on weapons recovered from inside the caravans and coaches in which the group were living.
Blood was also found on clothing and shoes belonging to the defendants as well as in the boot of a Silver Ford Scorpio with a cracked windscreen, belonging to Chambers.
Forensic examinations showed the blood had come from Mr Adams and linked the trio and the Ford Scorpio to his death.
A statement released after the case on behalf of Mr Adams' family said "Lennie" was a man who led an "alternative lifestyle".
"A life which allowed him to dance to his own tune in a way which combined his passion for music and a love of nature. Lennie was a talented artist, a skilled woodsman and a salesman with a unique selling style.
"To many Lennie was ingrained with the rich tapestry of life within Semley and Shaftesbury area. Ultimately that tapestry has become tarnished by the devastating manner of his death," his family said.
Speaking outside court Det Ch Insp Ian Saunders said Wiltshire Police's thoughts were with Mr Adams's family and friends.
"Despite a wealth of evidence against them this vicious trio have continued to deny their involvement in Lennie's murder.
"All three meant to cause Lennie Adams very serious harm that day. Following the initial attack they didn't make any attempt to get him medical assistance and they made sure that he could never tell anyone what they had done.
"Lennie wasn't a small, weak man but he had no chance against these three," he added.