Plans for Wiltshire town's canal submitted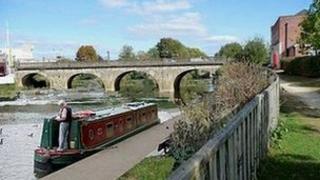 A planning application to build a new 1.9 mile (3km) stretch of canal through a Wiltshire town has been submitted.
The Wilts and Berks Canal Trust plans to construct a new waterway from the Kennet and Avon Canal at Semington to the River Avon in Melksham.
The multi-million pound project would bring narrowboats through Melksham for the first time in a century.
John Laverick, from the trust, said it was "one of the most significant moments" in the canal's history.
The Wilts and Berks Canal, completed in 1810, was a 52-mile (84km) link between the canal at Semington and the River Thames near Abingdon.
But the trust said the old canal route through Melksham had since been lost "under housing" and a new route using a short length of the River Avon would have to be built.
'Ambitious' project
"We admit it's ambitious, but we won't be expecting local taxpayers to foot the bill," said Mr Laverick.
"We'll be approaching national organisations such as the Heritage Lottery Fund and other bodies to provide the necessary grants.
"This is how the nearby Kennet and Avon was restored and reopened, and we see no reason why it shouldn't be the same for the Wilts & Berks through Melksham."
The planning application, submitted to Wiltshire Council, also includes a pedestrian and off-road cycle route, locks, pedestrian and road bridges, a new weir on the River Avon and a hydro-electric turbine.
If approved, work on the multi-million pound project could start within a few years.