Wiltshire schoolchildren learn about Afghan culture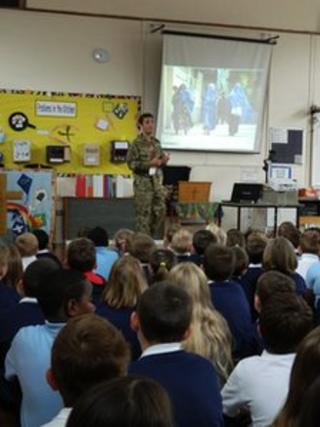 Schoolchildren in Wiltshire are being taught about the people of Afghanistan and their culture as part of a project devised by an Army wife.
Melanie Bradley, from Netheravon, thought of the idea in a bid to help remove fears among children caused by news reports about the country.
Mrs Bradley said a big deployment from Bulford Camp was currently affecting "an awful lot" of local children.
Army officers are leading special assemblies at schools in the county.
Mrs Bradley is also chief operating officer of the Afghan Appeal Fund, which aims to raise awareness of the circumstances of the country's people, especially children.
It also raises money to help Afghans in need, mainly through education.
'Quite frightening'
"I think at the moment, the media coverage is really only when something bad happens and that's what they [the children] see on the news and hear on the radio," she said.
"So when their parents are out there it's actually quite frightening for them, hearing all these news stories that are so negative.
"So really, we're trying to counter that with a different side of the story to tell them more about where their parents are, and the people who are living day to day in that country."
Mrs Bradley's husband Simon, an army officer based in Netheravon, recently spoke at an assembly at St Leonard's Primary School in Bulford.
"Most of what I present is based on my own experiences," he said.
"A lot of the photographs, which clearly the children enjoy, I've taken through my three tours out there so far.
"I try and use those to focus on where their parents are now and what they are doing."