Swindon toddler mauled by dog is plagued by nightmares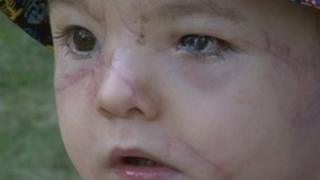 Parents of a two-year-old boy mauled by a dog in Swindon said the toddler was recovering well physically but was suffering from horrendous nightmares.
Keiron Guess lost an ear and the sight in his left eye after being attacked by a neighbour's dog in June.
The dog has since been destroyed and Keiron, following several major operations, is now recovering at home.
But Anthony Guess said although his son was "adapting" he has nightmares and cries at night "saying 'bite, bite'."
Keiron was found in a neighbour's garden in Swanage Walk in the town after the attack on 3 June.
He was taken to the John Radcliffe Hospital in Oxford for emergency surgery and was later transferred to Frenchay Hospital in Bristol.
"That night when it happened we thought he was going to die - his face was all cut open and just hanging everywhere," said Mr Guess.
"But the surgeons have done an incredible job on his face and I'm glad to see him back to the way he is.
"He's adapting and getting used to it day by day but he's having nightmares and keeps crying at night saying 'bite, bite'."
Keiron lost the sight in his left eye, his left ear and suffered "horrendous" facial injuries in the attack.
Keiron's mother, Stacey Drury, 22, said the "horrific" attack had left her son stressed and "very angry".
"He gets upset a lot - he thinks everything is going to bite him and at night he just cries," she said.
"And I cry a lot - it's just trying to find the right moment when the kids aren't looking.
"But he's coped and they've done a really good job on him and he still looks the same - he's still our boy."
The dog, which was believed to be a Staffordshire bull terrier, was handed to police by its owner and destroyed.
But Keiron's parents would like to see tougher laws to reduce the number of attacks by dogs.
"You've just got to look at my boy - it just doesn't get worse than that - does it?," said Mr Guess.
"He's been savaged - not bitten - I think they should all be kept on a lead and I think they should all be muzzled - it may be fatal next time."