Womad festival policing agreement reached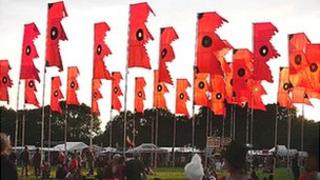 An agreement on the policing of this weekend's Womad Festival has been agreed between Wiltshire Police and the festival's organisers.
The music festival, co-founded by Peter Gabriel, has been held on the Charlton Park Estate near Malmesbury since 2007.
Wiltshire Police challenged the licence following a disagreement with the organisers over policing the event.
The festival will go ahead with extra private security staff and police in attendance.
Womad Festival had said the event would still go ahead even if an agreement over security was not reached with the force.
The festival spokesman said he could not go into detail, but the dispute was over the "appropriate level of police services".
'Difficult time'
The licensing hearing was due to be held earlier, but has been adjourned for two months.
A spokesman from Wiltshire Police said: "We are pleased to have reached agreement with Womad over the policing levels for this weekend's festival.
"Womad have undertaken to provide an increased number of suitably trained security staff who will work in partnership with Wiltshire Police officers."
Both the force and the festival organisers said in a joint statement: "Our over-riding priority throughout has been to ensure the safety and security of festival-goers, and of the public across the county."
The festival, which features music from around the world, is due to be held from 27-29 July and is expected to attract about 35,000 fans.
This year's line-up includes Patrick Wolf, Hot Water, Omar Pene and Femi Kuti & The Positive Force.