Devizes shooting: Tributes for solicitor James Ward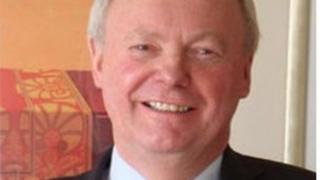 Tributes have been paid to a Devizes solicitor who has died in hospital after being shot in the head.
James Ward, 58, had been in a critical condition in Bristol's Frenchay Hospital since the incident at Morris, Goddard & Ward Solicitors on 2 July.
Roger Chadwick, a fellow solicitor in the town, said: "Jim was a well respected member of the community and this is just horrifying."
Michael Chudley, 62, is currently charged with attempted murder.
Detective Chief Inspector Ian Saunders, of Wiltshire Police, said: "I will now be working with the Crown Prosecution Service to ensure the criminal charges faced by the man already charged with attempted murder properly reflect this change in the circumstances of the case."
Flowers have been placed outside the offices where father-of-three Mr Ward worked.
Mr Chadwick, president of the Gloucestershire and Wiltshire Law Society, added: "He was a very pleasant person and genuine member of the community.
"We'd been hoping he would pull through but obviously that wasn't to happen.
"His family has had to take a decision to switch off his life-support machine. I don't think you can take a harder decision than that.
"He was a husband, a father lying in a hospital bed severely injured and they had to decide whether or not to switch off the life-support machine."
Mr Chudley, originally from Rowde in Wiltshire, is also charged with threats to kill and firearms offences.
He will appear at Winchester Crown Court on 24 September, with a possible trial date set for 17 December.