Regent Circus demolition to finish by end of September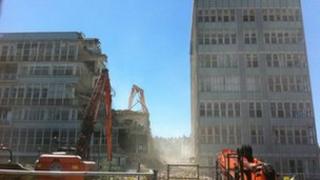 Demolition contractors have said a derelict college building in the centre of Swindon will be completely demolished by the end of September.
The building in Regent Circus was built in the 1950s and has lain derelict since its closure in 2006.
Wring Group Ltd has been on-site since April and is now in the process of removing the two main blocks.
Once cleared, the site will be used for a six-screen cinema, a supermarket and eight restaurants.
A spokesman for Wring said it is expected about 95% of the building would be recycled.
The £50m project will include a 52,000 sq ft Morrison's store, eight restaurants, a 30,000 sq ft six-screen Cineworld cinema and a 450-space car park.
Prezzo and Ask are the first two national restaurant chains to lease units at the complex.
The former Victorian technical college will be turned into offices.
The new site is set to open in spring 2014.