Farmers blockade Wiltshire milk depot in cuts protest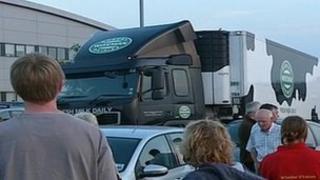 Farmers have blockaded a milk-processing depot in Wiltshire to protest against cuts to milk prices.
They took tractors and other vehicles to Solstice Business Park in Amesbury to block the entrance to the Robert Wiseman Dairies plant.
One protester said: "It's time that we show our hand and say it's not on."
A Robert Wiseman spokesman said the commodity price of milk and cream had dropped so rapidly that the company had no other choice but to pass it on.
Farmers are angry at cuts of up to 2p a litre in the amount they receive from major milk processors, which are set to come in from 1 August and follow cuts earlier in the year.
Another protester, John, said he would lose £20,000 a year if the latest cut was passed on.
"We've tried talking and tried all other things, we've talked to politicians and none of it has worked, so this is our last hope," he said.
"If we can keep this pressure up we can win, and we've got to."