Rail structures on Great Western Line get protected status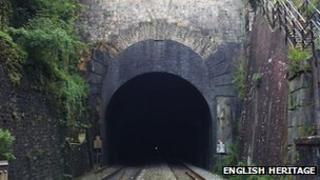 A number of railway structures in Wiltshire, Bristol and Somerset are among those given protected status after an English Heritage consultation.
They are all located along the Great Western Main Line which was designed by Isambard Kingdom Brunel.
Amongst those protected is the Brunel-designed Box Tunnel in Wiltshire, which has received Grade II listed status.
English Heritage's Emily Gee said the Brunel connection is "really important".
"Almost every structure on the line has that historic interest, but those that we've listed are the ones that survived particularly well," she said.
"Some of them might be representative examples in that it's partly what makes them special, and others might have a particular design that relates to their setting, and that's something Brunel was really significant in doing."
The River Avon Viaduct near Chippenham, the entrance portals of the Chipping Sodbury tunnel and its six ventilator shafts near Bristol and the Sydney Gardens Footbridge in Bath are also now Grade II listed.
The 116-mile (187km) line was built 176 years ago by Brunel to open up trade routes.
It runs from London through Buckinghamshire, Berkshire, Oxfordshire, Wiltshire, Somerset and Gloucestershire to Bristol.
Network Rail is spending £350m on expanding and electrifying part of the Great Western main line over the next five years.
Heritage Minister John Penrose said: "Our railways and the historic buildings that go along with them are a wonderful and emotive part of our national heritage, symbolising for many of us a sense of romance, history and adventure. And nowhere more so, perhaps, than on the Great Western Railway.
"I am very pleased to be able to give these buildings, bridges and tunnels the extra protection that listing provides."