Cancelled Swindon concert 'shows lack of imagination'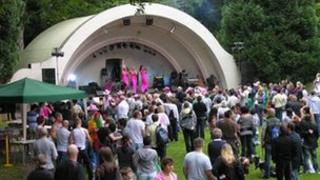 A Swindon music promoter said the local authority "lacks imagination" after it axed a concert over poor ticket sales.
Swindon Borough Council said it was "disappointed" it had to cancel Saturday's 80s gig at Old Town Bowl, featuring Modern Romance and Tight Fit.
Promoter Dave Franklin said the council was squandering the venue by booking 80s "one hit wonders" and tribute acts.
The council said ensuring a gig's success was "not an exact science" and sometimes they failed to sell.
The Bowl in Swindon's Town Gardens is used for a variety of outdoor events over the summer months, including the annual Swindon Pride and Mela festivals.
Retro circuit
It is the third year in a row that the council has staged an 80s-themed event, but it is the first to be cancelled due to poor ticket sales.
Mr Franklin, a local music scene blogger and the organiser of the Swindon Shuffle annual music festival, said it showed just how "out of the loop" the council is with local music tastes.
He said he was not surprised the concert had been cancelled and said it demonstrated an "almost negligent lack of imagination, almost as if booked by someone who is no longer excited about music".
Mr Franklin said a solution may be to book acts through experienced promoters. He believes that rather than trying to cater for family-orientated shows, the council should aim for relevant "festival-friendly" bands rather than those working on the "retro circuit".
A council spokesman said: "We do listen to our customers and audiences, and they have been telling us that they would be keen to attend 80s-themed nights and these have been successful in the past."
He added that there was still demand for this type of act, as tickets for a concert by an ABBA tribute act, Bjorn Again, at the Bowl on 1 September are "selling well".