Wiltshire Police appeal date set in Sgt Mark Andrews case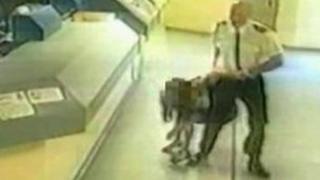 A police force will find out in October whether it will be ordered to reinstate an officer who was sacked after throwing a woman on to a cell floor.
Sgt Mark Andrews was jailed in September 2010 for assault and later sacked by Wiltshire Police, despite the quashing of his conviction.
The force was ordered to reinstate Sgt Andrews but has yet to do so.
Wiltshire Police is asking the High Court to overturn the decision of the Independent Police Appeals Tribunal.
The hearing is due to take place at the High Court in London on 19 October.
In December 2011 the tribunal ordered the force to reinstate Sgt Andrews to his £36,000-a-year job and award him back pay.
Speaking then the force said it was "surprised and disappointed" at the tribunal's ruling.
Sgt Andrew's trial had been shown CCTV footage captured in July 2008 in which he is seen dragging Pamela Somerville, 60, across the floor of Melksham police station and throwing her on to the floor of a cell.
The officer was found guilty of causing Ms Somerville actual bodily harm and jailed for six months in September 2010.
Sgt Andrews spent six days in prison but was bailed ahead of an appeal hearing against his conviction at Oxford Crown Court, which he won in November 2010.
His conviction was quashed after the appeal judge felt satisfied that Sgt Andrews had not intended to throw Ms Somerville into the cell.
But despite that ruling Wiltshire Police sacked the officer, saying that, while not criminal, his behaviour had fallen "well below the standards expected".
Ms Somerville had been arrested after she was found asleep in her car near her Colerne home.
Police claimed she was detained for failing to provide a sample for a breath test.
She denied any wrongdoing and the charges against her were dropped due to insufficient evidence.