Travellers leave Marlborough College grounds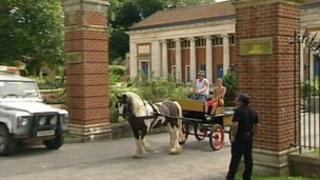 Travellers have moved on after setting up camp in the grounds of a prestigious Wiltshire college that was once attended by the Duchess of Cambridge.
Police were first alerted after up to seven caravans pitched up on a Marlborough College sports field on Thursday.
The travellers had told officers they intended to move on "no later than Sunday".
The force confirmed the travellers were leaving the county.
A police spokesman said: "The traveller incursion at Marlborough College has now ended.
"The travellers have left the site at approximately 12pm today following a direction to do so.
"They have now left Wiltshire."
Security guards remain at the site blocking access to the area where they were camped.
Marlborough College was founded in 1843 and charges up to £30,300 a year in fees.
It offers education to students between 13 and 18 years old.
The Duchess of Cambridge studied for her A-levels at the college - chemistry, biology and art - and left in July 2000.
She was also involved in school sport, playing tennis, hockey and netball and participating in athletics.
The master of the college, Jonathan Leigh, had said on Thursday they were "pursuing all legal steps to remove these people as soon as possible".